Dear Life-Like Dentists,
Since 1990, Life-Like Cosmetic Solutions has been helping dentists all over the U.S. whiten teeth. Both our professional whitening kits and our at-home teeth bleaching kits are exceptionally practical and effective products at the right price.
Life-Like dental supplies perform their job, or you get your money back, satisfaction guaranteed. Most cosmetic dentists prefer our 35% Hydrogen Peroxide Kit for maximum whitening results, but we also offer a full line of tooth whitening products including Power Bleach, Bleaching Enhancer, and at-home whitening kits.
Patients love the results they receive from cosmetic dentists who utilize Life-Like as their go-to teeth whitener. They are thrilled with the results they receive from the in-office procedure, and are eager to add the easy-to-use at-home kits to their daily oral hygiene routine.
So hop on it and start making your patients aware of the benefits of dental whitening.
We're offering a 24 hour sale
Get 50% off bottles!
Call 1-800-543-3545
 use coupon code: EASTER    offer expires 4-1-18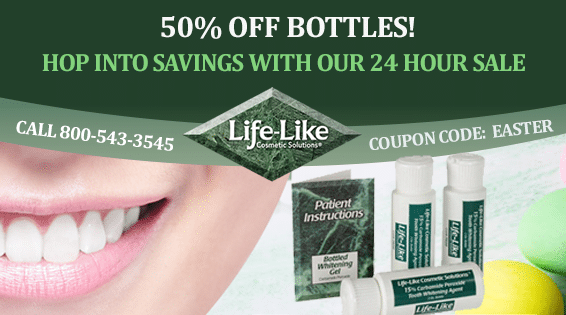 Happy Easter Everyone!
Dr. Rodney Ogrin, Founder & Owner
Life-Like Cosmetic Solutions
p.s.We're always so delighted to hear how much our clients care for us, especially on Facebook & Google! Thanks for showing how much you love our products on the review boards.   We love to reciprocate by sharing your dental practice on our Facebook wall, and dentist directory so please don't hesitate to ask.