Dear Friends,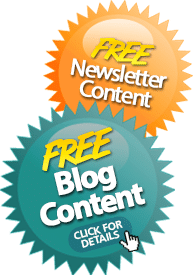 Did you know Life-Like has a "Marketing For Dentists" program to help dentists grow their practices with a modern marketing approach? We offer this program at NO COST to all Life-Like dentists. The program helps dentists market their practices by providing them with educational blog and newsletter content.
Frankly, we are surprised that cosmetic dentists everywhere are not rushing to take advantage of this unique opportunity since marketing is such an important factor in practice growth. Research consistently shows that dental practices need to engage in modern marketing techniques to capture the attention of today's digitally-connected patients.
The Pew Research Internet & American Life Project determined that 72% of internet users look online for health information. It also revealed that 77% of online health seekers began their last session at a search engine such as Google, Bing, or Yahoo. Not only does our program help communicate more frequently to existing and target patients, it also propels your practice up the search engine rankings to attract the attention of potential patients who are just beginning to think about teeth whitening.
We've dedicated this newsletter to explaining the benefits of implementing our "Marketing for Dentists" program at your practice, but contact us at 800-543-3545 if you would like more information on making more patients aware of the tooth whitening services available at your dental practice.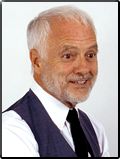 Dr. Rodney Ogrin, Founder and Owner Life-Like Cosmetic Solutions
The Benefits of Dental Marketing
You may think your dental practice is doing just fine with teeth bleaching and that you don't need to engage in any marketing, but nothing could be further from the truth. Today's dental patients look online for all types of information, and might even be getting courted by your competitors. The old saying, "out of sight, out of mind" is especially true when it comes to dental marketing. If you are not constantly reminding, informing, educating, and engaging, they could look elsewhere.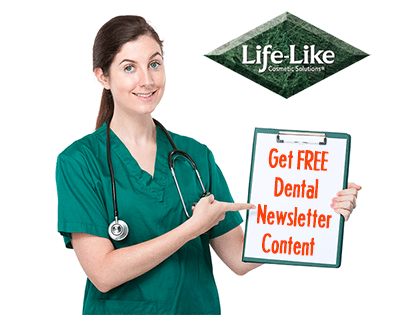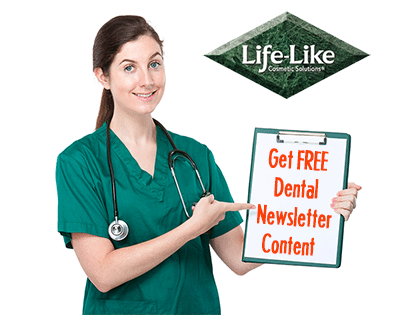 Don't assume everyone "knows" about tooth whitening. If it wasn't something that was in their minds at the time, potential patients might simply have ignored your previous marketing attempts on this topic. The best marketers know it takes at least five to seven impressions to catch someone's attention when they make a purchasing decision.
Since most people don't wake up thinking, "I wonder if teeth whitening is a good idea for me," you have to consistently be there to help move the decision-making process along. That's exactly what our stock dental content helps you achieve. Each month Life-Like provides your practice with educational, informative blog and newsletter content you can use to promote your practice to patients, at absolutely no additional cost to you. Here are just some of the benefits you can expect when you increase your online dental marketing:
Increased Awareness: Consistent communication keeps your practice top-of-mind with current and prospective patients. If someone considers dental whitening, your contact could be the deciding factor. If someone has not yet thought about professional teeth whitening, your regular input can help initiate the decision-making process.
Increased Search Engine Visibility: Your dental practice must engage in online marketing and search engine optimization to keep up with the way dental patients search for information. Our content is optimized to attract search engine attention once you post it on your website.
Consistency: Marketing teeth bleaching can be a long-term process, where your practice supplies small bits of information over a period of time. Use our program to communicate to prospective patients every month, and they might decide to ask how professional dental whitening can improve their lives.
Outpace the Competition: If you want patients to pick your practice, you have to set your practice apart. Make yourself stand out from your competition as the dental practice that goes above and beyond to provide information and education, and you are likely to attract patients looking for a partner in oral health.
Q&A About Dental Marketing with Life-Like
Q: How do I sign up for Life-Like's "Marketing for Dentists" program?
A:  If you are already a Life-Like dentist, visit our website and contact us to access our marketing content. If you are not a Life-Like dentist, contact us to learn how we can help market your dental practice.
Q: What do I do once I receive the content?
A:  Make minor changes to customize it for your practice. Change our generic "Acme Dentistry" to your practice name, add any tagline or personal information, and include a tooth whitening special if you like. Send it out to your email list and post it on your website. Link it to your social media like Facebook and Twitter to let more people know it's there and increase search engine visibility. Promote it in your office, ask for email addresses, and ask patients to let you know if any of their family or friends are interested in receiving information about teeth whitening.
Q: What topics are available?
A:  We cover a variety of topics that are informative and optimized for search engine effectiveness. Just some topics that could be available to your practice include:
Happy New Year from Acme Dentistry
5 Tips for Finding a Great Dentist
Happy Valentine's Day from Acme Dentistry
How to Overcome Dental Anxiety
Happy St. Patrick's Day from Acme Dentistry
Why Flossing is So Important
Happy Easter from Acme Dentistry
Teeth Whitening Improves Your Smile
Happy Mother's Day from Acme Dentistry
And more educational and time-sensitive topics throughout the year.
Life-Like Cosmetic Solutions provides a full line of dental supplies and dental products for teeth whitening including professional whitening kits for in-office use and teeth bleaching kits for at-home patient use. Visit the website at http://life-like.com to learn more about how cosmetic dentists can receive educational, informative blog and newsletter content at no cost. "Like" the Facebook page to receive regular tips on dental marketing. Call 800-543-3545 for more information about increasing patient awareness regarding professional dental whitening.