Dear Friends,
On St. Patrick's Day we celebrate Irish culture, and here at Life-Like Cosmetic Solutions we have been thinking about one quality that the Irish are famous for: "the gift of the gab." Irishmen over the world are known for being friendly, welcoming, and able to talk to anyone – a talent that we can learn from and apply to customer service when needing to put people at ease in the dentist's chair.
In the digital marketing age, people have more choice on where to go for their dental needs, and differentiating your practice from the crowd is vital. In addition, people's lives are now busier than ever, and a trip to the dentist is often not at the top of their priorities. Many people only find the time for the dentist when something really goes wrong and avoid making the appointments for other visits that would improve their teeth but can be easily postponed – including dental whitening.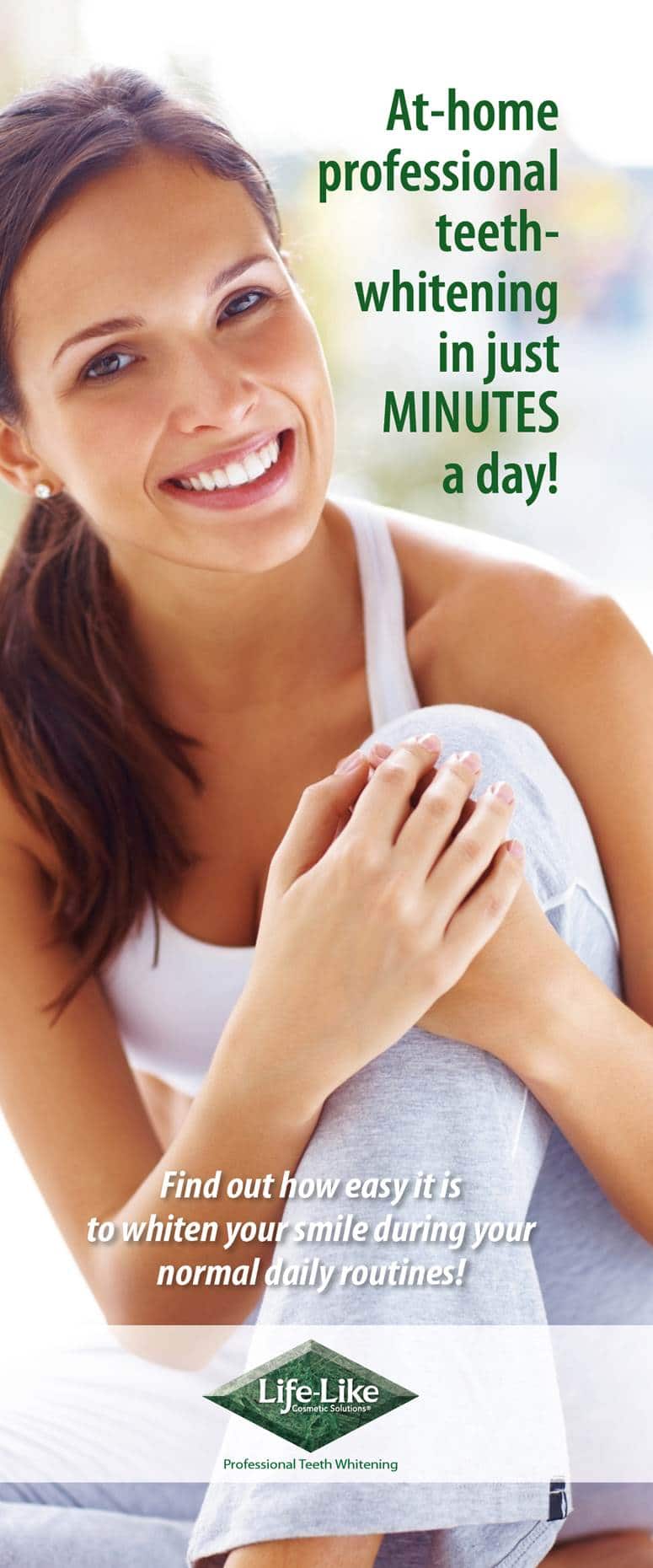 This just makes it all the more important to provide dental patients with an exceptional experience when they visit your dentistry office, making the thought of a dentist appointment not an occasion to dread, and helping to ensure they will be more likely to come back more often than the absolute necessary situations – and encourage them to do themselves an extra favor with that dental whitening appointment.
Here are some ways you can take the customer service of your dentistry above and beyond:
Get to know your patients. This seems obvious, but the importance of remembering your patients cannot be stressed enough. Greet them by name when they come in, even if it's their first appointment. Ask them questions about themselves, and remember what they tell you on their next visit. If needed, take a minute to jot down some notes about each patient right after their appointment, keep a file, and reference them before they come in again. Knowing your patients not only makes it easier to converse as time goes on, but knowing them better will make you genuinely happier to see them again, and patients will feel this sincerity.
Be good to your staff. You are not the only one that your patients interact with when they come in for a check-up – they also meet a number of your staff. Treating your staff well and being concerned about their needs encourages a happy staff, and having happy employees decreases turnover. Patients are comforted when they come in and see familiar faces at the reception and around the office, and are greeted by people who recognize them. Beyond this, having employees that like coming into work at your office will mean they are cheerful and friendly to customers – you shouldn't have to remind employees to be friendly. Posting a photo of your staff will make them feel more included in your practice.  Consider implementing up an employee recognition program to boost morale.
Reduce waiting times. A whitening treatment seems like a larger hassle when clients aren't sure how long the appointment will actually be or how long they will have to wait. Simplify the process for them and make it easy to schedule an appropriate amount of time, so that there are no scheduling surprises and they can more easily fit the appointment into their schedules. Text messaging is great for appointment reminders and keeping the daily schedule on track.  Remember that their time is just as valuable as yours, and if a patient has to wait a long time at your office, they are less likely to schedule further appointments. Long wait times at the dentist make over-the-counter whitening treatments seem more attractive, even though the products may not be as effective or cause sensitivity. Scheduling software such as Demand Force can help in this area.
Be concerned about their comfort. Inquire about the comfort of your patients during examination, and do anything you can to improve it. Provide pillows for neck or back comfort if needed, and make sure they know it is alright if they need a break. Don't give the impression that you are in a hurry. If you want to really go above and beyond, have a pair of noise canceling headphones for the drill noise. Ease the visions of discomfort associated with dentist visits, and your clients will come back.  Consider investing in a dental massage chair to increase the comfort levels of your patients.
Be available. Give patients extra information to help them on their teeth upkeep post-treatment. After whitening treatments, give them tips on what foods to avoid at first so their teeth aren't re-stained, and also provide good alternatives to those foods or beverages. Have a social media presence where you answer their questions, and make sure to keep up with it. Write helpful content on a blog to give them ideas on extra dental care they can do from home.  Did you know that Life-Like helps their dentists write your newsletters and blogs every month?
Overall, make sure they feel like a valued patient between visits as well as when they come in for an appointment.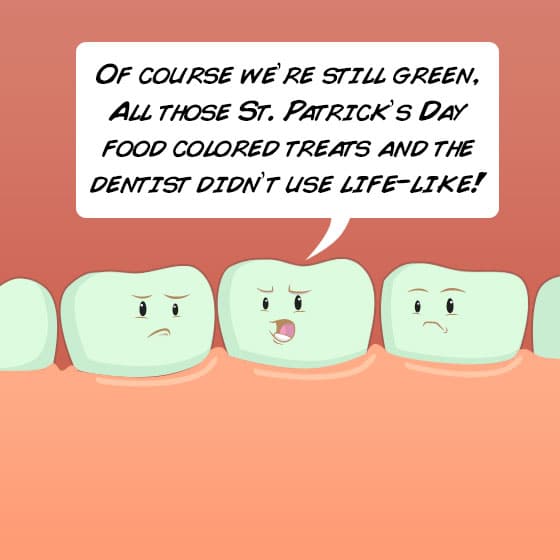 Q and A:
Q: What are the benefits of using your professional at-home whitening kit over buying one from the pharmacy that requires no visit to the dentist prior to treatment?
A: At-home over-the-counter whitening kits such as Crest can whiten unevenly and cause severe sensitivity during and after the whitening process, in addition to being less effective than the Life-Like whitening products. This is because our products are less bulky and fit to each patient, making our at-home whitening product more effective than the pharmacy alternative while needing less bleach as a result of the enhanced fit. Furthermore, receiving the product from a local dentist that has checked the patient's teeth beforehand will mean a safer and more even whitening for those using the at-home product. Receiving the product from the dentist benefits the patient, and helping to make appointments pleasant and hassle-free is one way we can encourage people to take this route.
Q: Will patients suffer any discomfort that they may wish to contact their dentist about?
A: Patients should suffer little to no discomfort – some sensitivity is possible, but should end when the treatment ends or a day or two after. However, it is important to be available to answer any questions the patient has while completing the treatment – this is one of the benefits of a dentist-based product instead of an over-the-counter alternative.
Recent Posts:
Top 4 Risks of Teeth Whitening
Why Don't Patients Visit Their Dentist During the Holidays?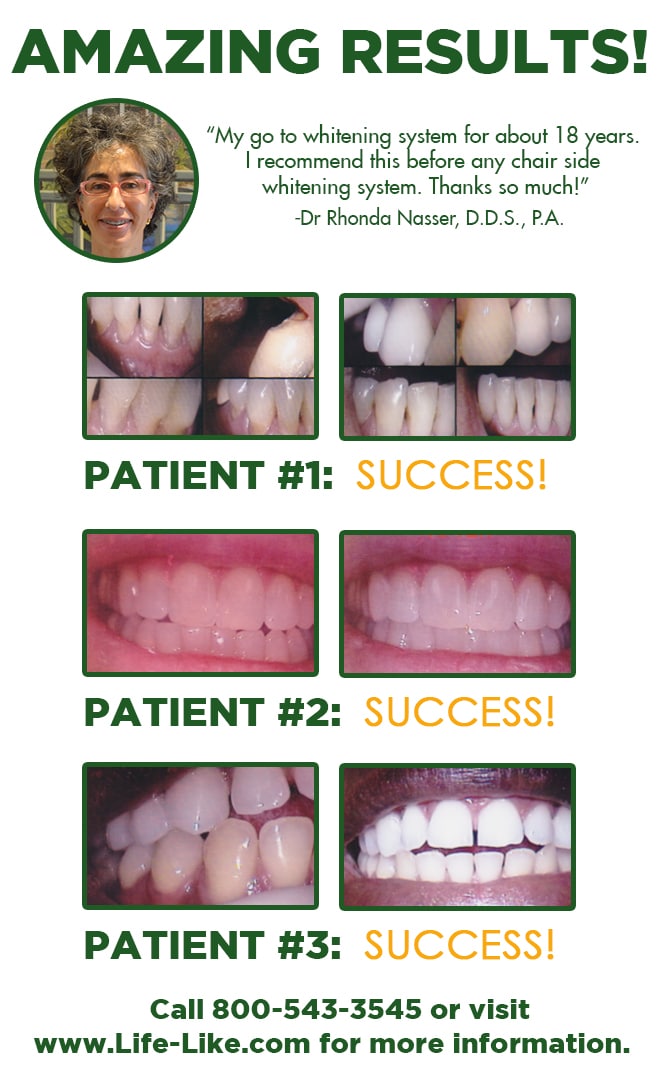 National Dental Conferences
Here are two national dental conferences coming in 2016 you won't want to miss:
Atlanta, GA – There will be an Annual Convention in Atlanta, GA on July 22-July 26, 2016. This is to assist all dental providers with up-to-date information to help you stay informed and provide better care for your patients.
Florida – On June 16-18th, 2016, the Florida Dental Convention will take place in FL. You can preregister to get you seats early. Children that are 12 and younger will not be allowed entrance. Ticket prices are $20 and another $10 per course.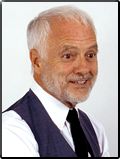 Dr. Rodney Ogrin, Founder and Owner
Life-Like Cosmetic Solutions
About Life-Like: Life-Like Cosmetic Solutions, the original tooth whitening system, provides dental supplies for teeth whitening. Cosmetic dental practices use Life-Like's professional whitening kits and at-home teeth bleaching kits to provide whiter teeth for patients. Visit the website at http://life-like.com to participate in the company's "Marketing for Dentists" program at no cost. "Like" the Facebook page to receive regular tips on its teeth whitener products. Call 800-543-3545 for more information about increasing practice revenue by marketing dental whitening.