Dear Life-Like Dentists:
Below is your stock dental marketing content for Halloween 2018. You can use this content for your blog and newsletter. Making a purchase from Life-Like Cosmetic Solutions this year grants you a non-exclusive, royalty-free license to use this content with your marketing efforts. Simply change "Acme Dentistry" to your office name, add a teeth whitening offer, and you're ready to go. If you have a question, please do not hesitate to contact us, and Happy Marketing!
– The Life-Like Staff
###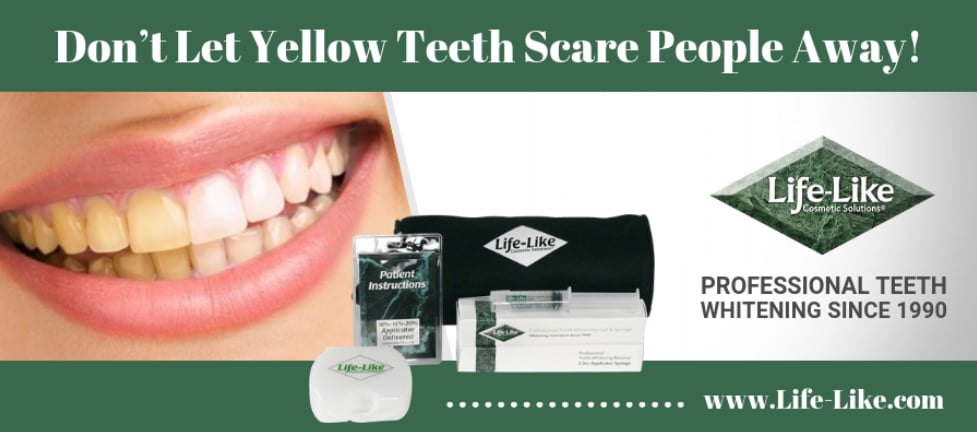 Don't Let Yellow Teeth Scare People Away!
Welcome to fall from Acme Dentistry. At this time of year, we all like to enjoy the smell of crisp fall air, eat and drink everything pumpkin, and engage in a little fun trying to scare everyone with our Halloween costumes. It's fun to black out teeth, and put in crooked teeth or fangs to complete our appearance.
In real life, though, we all want teeth that look as nice as possible. Our cosmetic dentistry practice can help straighten crooked teeth and repair or replace cracked or missing teeth. This gives you a more natural appearance, and is also better for chewing and biting, as well as your overall health. Some of the very foods and drinks we like to enjoy most at this time of year can also cause the most damage to our teeth. Sticky, chewy candy can get stuck between teeth and attract bacteria, which can lead to plaque and cavities. Keep up your oral hygiene routine so you don't get any scary surprises.
One thing you do want to be afraid of is some of the over-the-counter or online solutions you might find to solve some of your dental problems. Mouth guards for sports, clear aligners, and teeth whitening products can all be found for what might appear to be very attractive prices. You might even think they are doing the job until you start running into some type of problem with your teeth. It is always best to consult with a professional to make sure your teeth are receiving the very best of care. Our cosmetic dentist has many solutions to give you a happy, attractive smile and make you feel good about yourself again. We can install dental implants and crowns to replace missing teeth, align crooked or protruding teeth, and make sure your sports mouth guards fit securely to provide the maximum protection.
If you've got yellow, stained or dingy teeth that are scaring family, partners, or co-workers away, it might be time to consider our professional teeth whitening services. We will perform a thorough examination and evaluation of your oral health to determine if you are a good candidate for this service. If we think you will benefit, we will implement the dental whitening process using only products from Life-Like Cosmetic Solutions, the original teeth whitening system. Our dentist can provide in-office teeth whitening services, and can also give you one of the Life-Like home whitening kits to use between visits. For an easy home whitening application, ask us about their Shower Whitening System, with a patented Life-Like applicator that needs no assembly and does not require a needle.

Get scared the old-fashioned fun way, not from dental problems. Contact our dental office today to set up an appointment, learn more about teeth whitening, or ask questions you may have about dental care, cosmetic dentistry, oral hygiene, or dental teeth whitening. Happy Fall and have a Great Halloween from the dental professionals at Acme Dentistry!
###