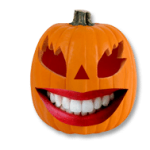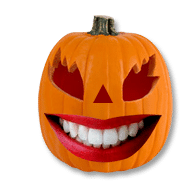 Dear Life–Like Dentists,
It's THAT time of the year again, AKA the holiday that many dentists dread—Halloween! Are we the only ones anxious about this beloved cultural tradition?
Halloween does not need to be a nightmare for dentists. And you know what? It might just be the perfect time to remind your patients about the importance of taking good care of their teeth.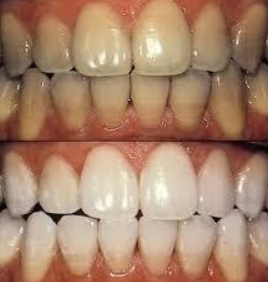 How else would they be able to enjoy their yummy treats and sugary sweets?
So for this month's newsletter, we're sharing fun but tooth friendly Halloween marketing ideas.


Top Dental Marketing Ideas for Halloween 
Hand out tooth friendly Halloween treats: Chocolates and candy aren't the only ones you can hand out to trick-or-treaters. There are plenty of alternatives for these sugary treats. You can even keep with the dental hygiene theme. You can give out toothbrushes, flossers, or even melted crayons in the shape of, what else, a tooth! You can also keep it fun with stickers, glow sticks, key chains, fun magnets, bubbles, temporary tattoos, or even coloring books. You can buy these in bulk and in inexpensive prices from discount or craft stores.
Decorate your dental office for Halloween: Keep the clinic festive with dental themed décor. My favorite idea? A carved out smiling pumpkin—with beautiful white teeth. Or, perhaps everyone can wear fake fangs on Halloween just to keep things fun. Show them that dentists can have fun during Halloween, too!
Educate patients about teeth whitening:  Remind patients about the importance of dental hygiene, especially this season of sweets. Most patients don't know that their favorite treats and sweets are likely the most common culprits for teeth stains and problems. If despite regular brushing, they find that their teeth aren't as white as it used to be, offer them your teeth whitening services. After all, even Dracula was proud of his white vampire fangs.
Halloween Email newsletter content: Use our stock content in your next newsletter. (click here to access) We're keeping it fun and festive, but also informational this month with our Halloween-themed newsletter. This month, we discuss food that are likely to stain teeth (and food that don't).
Printable Marketing Resources: Don't forget, we have marketing resources at your disposal. Are you running special promotions this month? We've got you covered with counter cards, flyers, and frameable prints. All you need to do is place an order. Here's a tip: hand out Statement Stuffers when you give out Halloween treats?
Scary Good Offer: Take advantage of our Halloween special on our syringes, when you buy 6 syringes, get one free!  Call 800-543-3545 to place an order.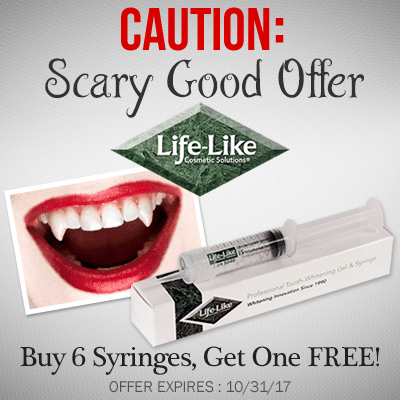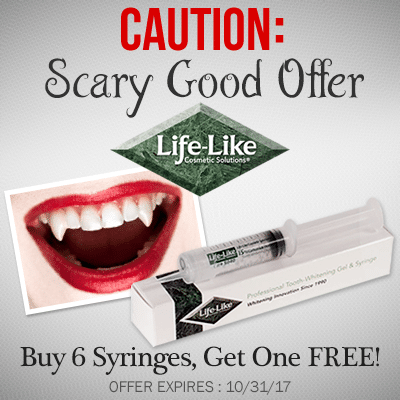 Tired of patients complaining about painful ultra-violet whitening?  Visit our website at http://life–like.com to learn more about our painless teeth whitening.  Call 800-543-3545 to place an order.
Happy Halloween!
Dr. Rodney Ogrin, Founder and Owner
Life–Like Cosmetic Solutions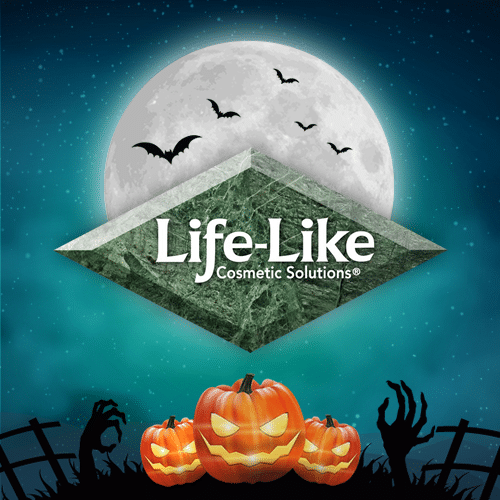 About Life-Like: Life-Like Cosmetic Solutions, the original tooth whitening system, provides dental supplies for teeth whitening. Cosmetic dental practices use Life-Like's professional whitening kits and at-home teeth bleaching kits to provide whiter teeth for patients. Call 800-543-3545 or visit the website at http://life-like.com to participate in the company's "Marketing for Dentists" program at no cost. "Like" the Facebook page to receive regular tips on its teeth whitener products.