Dear Dentists,
May 27th is Memorial Day.  A day to say "Thank You" and show appreciation to all those who have fought for our country.
Are you a military dentist?  It's your time to shine! This month we're honoring all the past and present military dentists by offering 4 additional PerioRenew bottles with every order.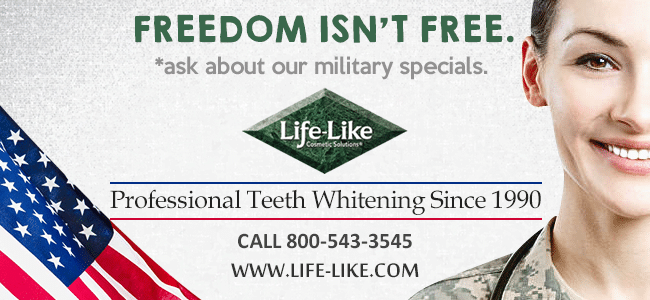 Military
Special
Get 4 Bottles of PerioRenew
Call 1-800-543-3545
PerioRenew is our latest dental product that breaks down biofilm while killing the germs that cause bad breath. Our formula will not acid-etch enamel like other H202 gels, (because the gel is PH Neutral) making it safe to use before and after invasive procedures.
Visit our website at http://life-like.com to learn more about our painless teeth whitening.  Call 800-543-3545 to place an order.
Happy Whitening!
Dr. Rodney Ogrin, Founder & Owner
Life-Like Cosmetic Solutions
About Life-Like:  Life-Like Cosmetic Solutions, a BBB A+-rated company, has provided quality dental products for teeth whitening since 1990. Cosmetic dental practices use Life-Like's professional whitening kits and at-home teeth bleaching kits to deliver whiter teeth for patients. Call 800-543-3545 or visit the website at http://life-like.com to participate in the company's "Marketing for Dentists" program at no cost. "Like" the Facebook page to receive regular updates on teeth whitener products.