Dear Life-Like Dentists
We are excited to announce our new storefront and we think you are going to like it as much as we do.  Below is a quick start guide to help you get accustomed to the new features of the shopping cart.
First, it is important to understand why we keep pricing hidden from the public (and curious patients).  Life-Like, unlike other teeth whitening companies, does not publish prices online.  This is one of the big reasons why dentists love our company.  We protect our dentists!  Your patients will not see our teeth whitening products on EBAY or AMAZON or ANYWHERE ELSE ONLINE.  We sell directly to dental offices ONLY.   The goal of every dentist should be to keep patients coming back to the office.
In order to see the pricing on our web  site, you must first register for an account.
Step 1: Visit this page ( http://life-like.com/my-account/ ) and fill out the dentist application form.  Your account will be held for moderation and you will be unable to login until it is approved.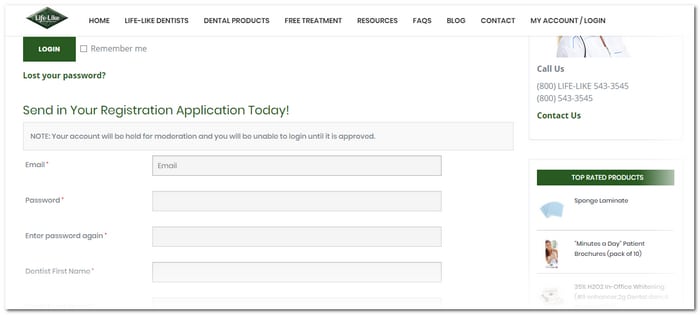 Step 2:  After we verify your dental practice, we will send you an email with a user / pass to access the shopping cart, view prices and place orders online.  Once you login, you will be able to see all prices in the site.  Please allow 24-48 hours for your account to be approved.  And remember to check your  "spam email" folder in case your account email is trapped in there.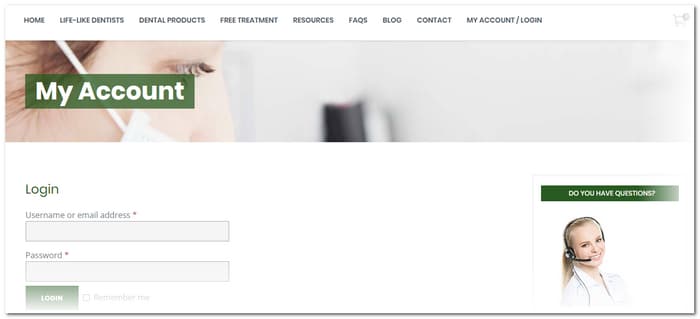 Step 3:  After you login, you can navigate to the store, and place an order.
NOTE: You will notice that the bulk pricing is reflected after you proceed to the check out page on the next screen.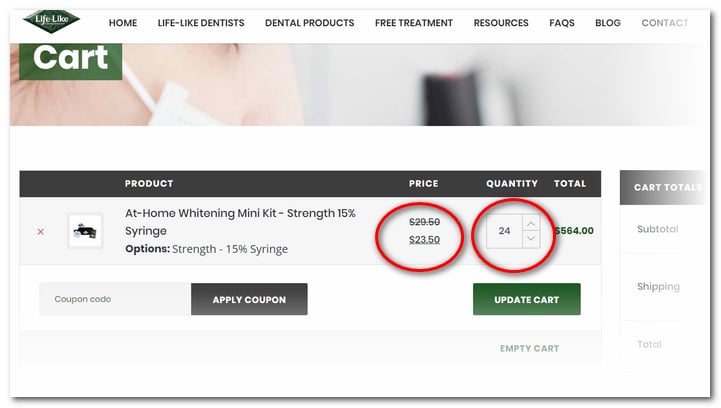 Step 4:  Click PROCEED TO CHECK OUT button on the lower right of screen, and then fill out the form with your credit card details.
Step 5: Next, we will process your order and follow up within 24-48 hours with an order confirmation.  If you have a question at any time, you can call us and speak to a live person at (800) 543-3545

There are several new features of the shopping cart worth mentioning.
Customer Account. Order history is now kept inside of the web site, which makes reordering your favorite products much faster and easier.  The status of your order is updated continuously throughout the purchasing process. As an approved Life-Life Dentist, you will have your very own customer account online, which will list your order history and receipts.  This will help you keep track of your orders
Checkout Easily. We accept all major credit cards and checking out with the new cart is a breeze.  You will simply add the products to the cart, and then click Proceed to Check out. Ordering teeth whitening products has never been easier!
Marketing Materials:  Printed Life-Like materials, such as our "Minutes a Day" Patient Brochures (pack of 100), Patient Instruction Booklets, Statement Stuffers (pack of 50) and many others can now be ordered through the shopping cart online at zero cost.  Our marketing materials provide the information patients want to know before deciding to have teeth whitening procedures. View all marketing materials here.
Price Privacy:  For privacy reasons, we do not publish the prices on our product pages.  Patients who might try to find a lower price online, will not find it when they look for Life-Like teeth whitening products.  All new dentists must submit an application and be validated by our staff, before they are issued a Log-in to see the cost of products in the storefront. 
Product Info:  Finding information about each product is much easier now.  The new shopping cart provides you with the ability to sort by product, by popularity, average user rating, newest products, or by the price. Dentists are now able to easily see related items by scrolling down any individual product listing page. 
Loyalty Program:  Life-Like initiated a new loyalty program to reward dentists for repeat purchases. Dentists can earn one point for each dollar spent on products. Points can also come from submitting reviews of the products they buy. Each time a member dentist submits a before-after photo of a customer, they will also earn points. After 100 points have been earned, they may be redeemed as store credit at http://Life-Life.com/shop.
We want to thank you for your continued loyalty.  It is our goal to provide dentists with highest quality teeth whitening products at affordable prices. Life-Like appreciates your business.
Visit our website at www.Life-Like.com to learn more about how our teeth whitening products can help your patients. Call 800-543-3545 to place an order or inquire about special pricing and member dentist benefits.
Happy Whitening,
Dr. Rodney Ogrin, Founder, and Owner
Life-Like Cosmetic Solutions