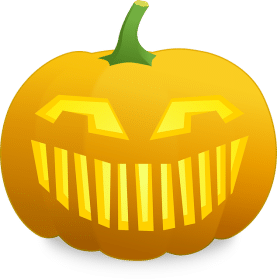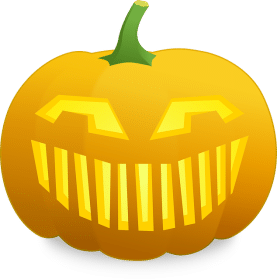 Dear Friends,
There are many frightening things at Halloween, but teeth whitening doesn't have to be one of them. Many patients are embarrassed about their yellow teeth, and are afraid to ask about teeth whitening.  Perhaps they've had a teeth whitening nightmare experience in the past with a less experienced dentist.  Many patients just don't know about the safe and effective forms of teeth bleaching available today. Some may be willing to live with the discomfort and low self-esteem of discolored teeth because they think there is nothing that can be done for them.
It might seem like your patients should be aware of the benefits of good oral hygiene and whiter teeth, but some scary statistics from NationalSmileMonth.com show that one in four adults still don't brush their teeth twice a day, and one in ten even admit they regularly forget to brush their teeth. Life-Like can help you educate your patients about dental whitening and grow your practice with our digital dental marketing resources.
Life-Like Cosmetic Solutions has marketing materials to help cosmetic dentists explain their tooth whitening services to patients. Contact us at 800-543-3545 for more information on our "Marketing for Dentists" resources, and learn how to make more patients aware of the tooth whitening services available at your dental practice.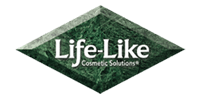 Why Do Patients Get Yellow Teeth and What Can Be Done About It?
For some people, yellow teeth may be part of the natural aging process, but there are many other reasons for yellow teeth. Before embarking on any teeth bleaching program, talk to your patients about their lifestyle, eating and drinking routines, and overall health. You need to determine how their teeth yellowed in the first place, so you can recommend the best approach to solving the problem. A few ways teeth become yellow include:
Aging: According to a New York Times article on "The Inevitability of Yellow Teeth," there are external and structural causes that can make teeth appear to yellow with age. Structural changes might include a thinning of the enamel over time, or a thickening of the dentin. Depending on the density of the enamel and the color of the dentin, teeth may appear more yellow in some patients than others.
Poor Oral Hygiene: One action that patients have control over is maintaining a daily oral health routine, but many still don't floss and some forget to even brush.
Lifestyle Factors: Lifestyle factors such as alcohol, coffee, soda, tobacco, and food choices can contribute to yellow teeth. If teeth are not properly cleaned, these elements can contribute to other health issues as well.
Health conditions: Conditions such as bulimia or acid reflux can exacerbate any tooth yellowing. Patients who experience dry mouth due to disease, antibiotics, or medication may not be able to generate enough saliva to help in the mouth cleansing process.
Medical treatment: Patients who are undergoing radiation or chemotherapy may be more likely to experience yellow teeth. The dental professional should be included in the care team to help maintain oral health during the treatment and recovery process.
Surprising causes: Such non-suspicious activities as mouth breathing, drinking acidic juices, chewing vitamin C pills, or using condiments can lead to problems. Always perform a thorough health and lifestyle inventory to determine what other actions are appropriate before recommending any type of teeth whitener.
If your patient is ready to embark on a tooth whitening program, Life-Like Cosmetic Solutions provides a full line of dental supplies and dental products for teeth whitening.  Since 1990, we've been pioneering the evolution of teeth whitening products, including professional whitening kits for in-office use and teeth bleaching kits for at-home patient use. Visit our website at http://life-like.com to learn more about adding professional dental whitening to your dental practice.
Q&A About Professional Dental Whitening with Life-Like
Q: Is teeth whitening safe?
A: Dental whitening is gentle and safe with the right products and supervision by a dental professional. In fact, dentist-supervised whitening has increased in popularity in recent years as yellowed teeth are becoming less and less acceptable, both socially and professionally.
Q: What are the benefits of professional whitening kits over retail versions?
A: "Boil-and-bite" trays in over-the-counter products can overlap soft tissue, and cause irritation. A poor fit could results in discomfort and possible TMJ problems. Custom-made, dentist-designed whitening trays conform more closely to the natural contours of the teeth, are far more comfortable, and assure a superior result.
Q: Which of my patients are eligible for teeth whitening?
A: Life-Like Cosmetic Solutions are appropriate for patients of all ages, from nine to ninety. You can help your patients feel better about their smiles by using teeth whitening products from Life-Like.
Q: How soon will my patients see results?
A:  Patients usually begin seeing results with Life-Like dental whitening products within three days. The complete process normally takes between one and two weeks, but times can vary depending on the depth, type, and cause of the discoloration.
Did you know Life-Like provides Dentists with e-newsletter content?

Content marketing helps cosmetic dentists grow their practice dramatically. The benefits include:
Your patients are online: Over 86% of the adults in the United States utilize the internet. As of July 2015, Pew Research Center reports that 76% of online adults use social networking sites. Digital marketing is the most effective way to reach these prospective patients online and let them know what your dental practice offers.
Just a website isn't enough online marketing: Websites need to work harder than ever before to attract patients. Content must be optimized and current for search engine rankings. It can't just be about your practice. Blogs, newsletters, and informational articles must be added constantly to keep it fresh and interactive. Don't limit your content to just your website, either. It needs to be put out on all forms of social media to catch your prospects at the exact moment they are seeking information.
Life-Like Cosmetic Solutions can help your practice participate in the online dental marketing revolution. Take your practice to the next level with our stock dental content. Each month, Life-Like provides educational, informative blog and newsletter content cosmetic dentists can use to promote their practices.